Eleanor Hayden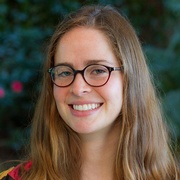 Research Assistant II
(831) 440-2174
Eleanor Hayden is a Research Assistant II who works primarily on projects in the HIV, Sexual & Reproductive Health category. She obtained her BA in Biology and minor in Sociology from UCSC, and her academic interests include public health and medical sociology.
During her time in college she worked on the No Place Like Home project, an ongoing housing study that documents the experiences of Santa Cruz residents through surveys, interviews, narratives, and visual media. Since graduating she has contributed to two other research projects, including the third follow up in a longitudinal study of women physicians' health and career satisfaction, and a project focused on creating a patient advocacy guide.
These experiences have helped develop her interview, data collection, and data analysis skills. She continues to refine this skill set through her work on the Making Healthy Decisions, FLASH, and About Us Healthy Relationships studies here at ETR.